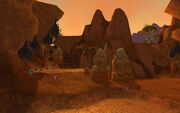 The harpies of Drygulch Ravine are not gathered under any leader's wing. Thus, they have taken to banditry, stealing supplies from caravans and hoarding them on their high cliffs. The harpies nest further in, in Razorwind Canyon, where the most powerful harpies guard their eggs.
Mobs
Community content is available under
CC-BY-SA
unless otherwise noted.