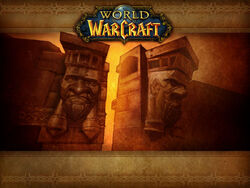 Dungeons are grand in scale and are specifically designed for more epic encounters. All these locations have common areas where players can meet up and fight together. But, deeper in the dungeons are areas set up specifically for more private group (or sometimes guild) adventures. These areas, called "instanced zones," allow groups to have a more personal experience, exploring, adventuring, or completing quests in their own private dungeon. Players also have the ability to invite others into their instanced zone to join them. The monsters in instanced zones are typically more powerful, so groups of players will have to work together to defeat them.
Dungeons
Community content is available under
CC-BY-SA
unless otherwise noted.