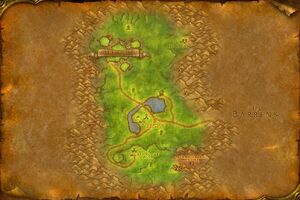 The following quests are located in Mulgore in World of Warcraft: Classic. As the game is not yet on the PTR or live, all data contained herein should be viewed as tentative and based on historical resources.
Every effort has been made to keep quest chains intact, so if a chain begins in a specific area, the entirety of that chain will also be listed under that area. When the chain requires players to pick up the next quest in a different area, that area will be shown in parentheses.
Areas are listed in roughly the order players encounter them. Standalone quests are indicated by bullet point, while quests in a chain are numbered.
Camp Narache
 [2] The Hunt Begins
 [3] The Hunt Continues
 [4] The Battleboars
Class quests
Bloodhoof Village
 [8] The Ravaged Caravan
 [8] The Ravaged Caravan (2)
Class quests
Red Rocks
Ravaged Caravan
Drop
Community content is available under
CC-BY-SA
unless otherwise noted.