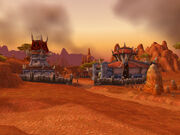 Razor Hill is an orc outpost built on a crossroads in central Durotar. The southern road eventually leads to Sen'Jin Village and the Valley of Trials. The northern road leads to Orgrimmar, and the road west ends up in the Barrens and eventually to the major Horde gathering point of the Crossroads. The Razor Hill Barracks is the single most prominent structure in the town. The orc, Orgnil Soulscar is the current leader of Razor Hill, occupied with investigating the activities of the Burning Blade in the area.
Razor Hill is the second place of training for all new orcs and trolls except mages. Usually people achieve level 10 before venturing on to the Barrens.
NPCs
Quest givers
Class trainers
Profession trainers
Vendors
Services
Quests
 [12] Conscript of the Horde
 [12] Crossroads Conscription (Barrens)
Class quests
 [10] Therzok
 [13] The Shattered Hand
Community content is available under
CC-BY-SA
unless otherwise noted.