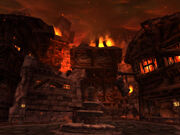 Stratholme was the northernmost city of the Kingdom of Lordaeron where the Order of the Silver Hand was founded. Stratholme was destroyed during the Third War by the Scourge, and has been split between the Scarlet Crusade led by Grand Crusader Dathrohan, and the Scourge led by the death knight Baron Rivendare.
Scarlet Side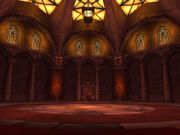 Also known as: FD Strat, Strat Scarlet, Strat Light, Scarlet Strath, Strath Live, Liveside, Hu(man) Strat, West Strat, SM Strat
Enemy Level Range: 55-62
End Boss: Grand Crusader Dathrohan/Balnazzar
Mini Bosses:
Triggered Boss

Fras Siabi

Opening up his tobacco box for the quest.

Crimson Hammersmith

Clicking on a parchment named "Blacksmith Plans" will trigger the Hammersmith. The plans can appear in at least 2 known locations:

On the floor in the Hoard area before Cannonmaster Willey
On a bench in the alcoves occupied by Archivist Galford
Quests
Undead Side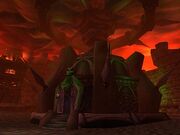 *
Also known as:
BD Strat, Undead Strath, Deadside, Scourge Strath, Baron side, UD Strath, Baron Run, Strat UD, East Strat
Enemy Level Range: 55-62
End Boss: Baron Rivendare
Mini Bosses:
Triggered Boss

Postmaster Malown

Opening up various mailboxes with their corresponding keys.

Black Guard Swordsmith

The Black Guard Swordsmith is triggered by clicking on some blacksmithing plans on the floor to the right of the stairs of the First Ziggurat. Baroness Anastari is at the top of the stairs.

Also contains the entrance to a future instance.
Quests