On the northern coast of Lordaeron lies Tirisfal Glades. Home to the Forsaken, servants of the Banshee Queen Sylvanas Windrunner, the hills are seeped through with the curse of the Lich King's plague. The sky over Tirisfal is gloomy and tinted green, and the trees and flora cling to their last shreds of life.
Although tainted, Tirisfal still has its own unique beauty in such areas as the North Coast, the village of Brill, and the atmosphere of Agamand Mills.
Tirisfal Glades is home not only to the Forsaken, but to their enemies as well. The Scarlet Crusade has several outposts, including the seat of their faith, the Scarlet Monastery. The minions of the Scourge are also present, tainting the derelict farmsteads and mills.
Environment
Territories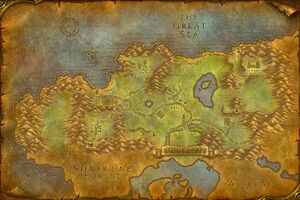 Dungeons
Travel
The only flight master available to Horde players in Tirisfal Glades is within the Undercity.
South of Brill, Horde players have access to a pair of zeppelins at the tower that travel to and from Grom'gol Base Camp in Stranglethorn Vale and Orgrimmar in Durotar.
Neighboring zones
Key characters
Resources
Notes
Related content

For lore, or modern information about this topic, visit this article on

WoWWiki (click here).
Community content is available under
CC-BY-SA
unless otherwise noted.