Adventure Opportunities
Sentinel Hill is the main settlement in this region. It has many subquests that culminate in a large instanced dungeon called "The Deadmines" where you must find and kill Edwin VanCleef, the leader of the Defias Brotherhood. The entrance to the Deadmines is located in Moonbrook, a broken town controlled by the Defias Brotherhood in the south-west region of Westfall, near The Dagger Hills.
Adventurer's Tips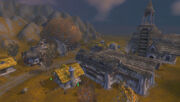 Dropped items in this area and their purpose:
Quest Table
See also: Westfall questing guide
Quests which take place outside Westfall are denoted by a

.
Quests which are part of a chain are denoted by
. Click the downward arrow to the right of the icon to view the chain.
Quest givers by location
Quest starters in Westfall
Notable quest chains in Westfall
The following quest chains occur in Westfall. Chains have been included if they are more than three quests long or are specially significant in some way.
Osric's Crate
The Westfall Quartermaster, Lewis, needs some gear from Stormwind.
Defias Brotherhood
This long chain sends you to the Redridge Mountains and to Stormwind City. The final steps send you into the Deadmines instance.
Captain Sanders
The Ghost of Captain Sanders has a treasure map for you!
Sweet Amber
Grimbooze Thunderbrew sends you off in many directions, fetching Holy Water from Stranglethorn, Barley from the Swamp of Sorrows, Corn from Tanaris, Rye from the Hinterlands, a Sycamore branch from Feralas, and wood from the Searing Gorge. The reward is Thunderbrew's Boot Flask, possibly your first trinket.